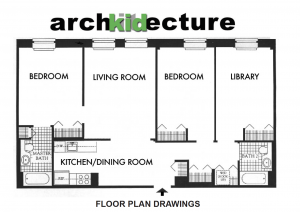 At archKIDecture, we love floorplans. They are the drawings that are made by architects and designers to define the outside walls, windows, and doors of a space and then give details about the interior walls and doors, rooms, and well, everything that makes up a building.
Try this floorplan worksheet. Remember a floorplan is what the view is like if you were a bird flying above the building or structure (without a roof on the building!)
Download the floorplan worksheet now! Try it out on your own.