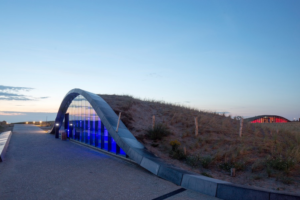 663 cars are hiding underground. Well, they are not really hiding, they are parked in this well-concealed parking lot in the Netherlands.
Looking like a home for Hobbits, this structure won the Royal Institute of Dutch Architects award for the Best Dutch Building of the Year 2016.  We think that it might be a great model for parking lot buildings that are usually ugly hunks of concrete. By building it underground, it is barely noticeable, as the roofs of the structures are hilly and covered in sand, like the surrounding beach area.
The roof of the parking lot is man-made, or we could say "human-built", and it is covered by the sand of the dunes as time goes by, blending it in to the landscape. So, the structure also protects the coastline because it is enveloped in the dunes rather than removing or replacing the dunes with cement and other materials.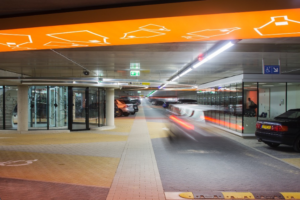 The design firm, Okra, focused on the landscaping of the project. (http://www.okra.nl/en/ondergrondse-parkeergarage-katwijk-verdwijnt-onder-zand/) which has a couple of photos that show the roof without the sand.
All of these beautiful photos are by Luuk Kramer, see more at http://luukkramer.nl/
Read more here.