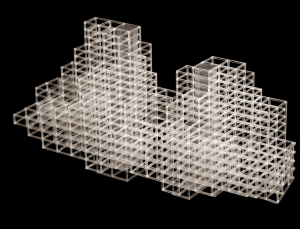 This new city building in Rotterdam, The Netherlands, is built like a toy erector set.The Timmerhuis is a series of steel posts and beams that are constructed next to an old city hall building, with a museum, 80+ apartments, shops, and office spaces too. It looks interesting and better yet, it can be altered and changed, added to or taken down, with relative ease. Because it is like a toy building set, the steel structure is changeable. It is a NEW idea for architecture.
This was intentional by the architectural firm who designed it – OMA. OMA is famous for building interesting and innovative structures around the globe. For this project, they needed to build something within a strict budget. The project also had to be flexible to change over the next few decades. Also, it had to be green. (Not the color green, but environmentally responsibly green.) The exterior is made of prefabricated panels. The interior has open spaces, halls and stairs to allow people to walk to their destinations within the structure, versus having to take elevators.
Steel can be removed and recycled, so it is a great material to use if you want to be green, unlike concrete, which can be reused but with greater energy costs.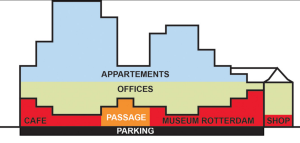 We want to visit Rotterdam to see the Timmerhuis and to visit all sorts of other great design works in that city. A field trip might be in order….
Read more about the structure in this article.
In Dutch you can link to the building's site.