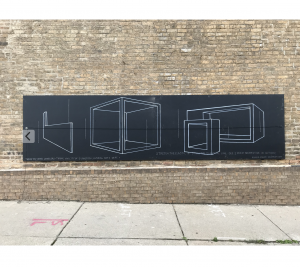 We installed a large mural in Evanston Illinois for the summer. It is a giant blackboard with some white geometric shapes on it and it is begging for YOU to come and draw on it. We want you to learn all ABOUT PERSPECTIVE. Two point perspective to be exact!
How do you learn how to make a two point perspective drawing on the mural? There is a piece of elastic string that stretches across the middle of the mural and this is the KEY!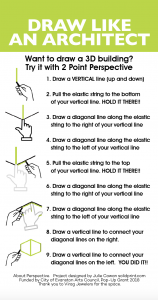 1 Draw a vertical line with chalk on the board.
2 Pull the elastic string to the bottom of the vertical line
3 Draw with chalk on the two angled lines of the elastic.
4 Push up the elastic to the top of the vertical line.
5 Draw these two angled lines.
6 Connect the angled lines with vertical lines (your shape should look like the ones on the mural already.)
That is a simple way to draw with two point perspective. Now people will think you know something very complex and we don't have to tell them how easy it is!
Take a look at this video on this Instagram post which shows how to use a string to make perfect architectural, geometric shapes.
And then go to solidprint.com and see a bit more!