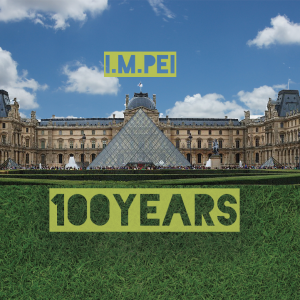 Ready set go…blow out those birthday candles, Mr. Pei! This famous architect turned 100years old earlier this year. He was born in 1917 – and has been living as a famous architect for many of those years.
Let's look back at where the world was at in 1917…
These events seem like a million years ago….and yet I.M. Pei was born that same year.
What is he known for?
I.M. Pei was born in China and studied architecture in the US at University of Pennsylvania, then MIT and then Harvard.  He started his own architecture firm and eventually designed such famous structures as:
Glass Pyramid addition at the Louvre, Paris, France
Kennedy Library, Dorchester, Massachusetts, US
Rock and Roll Hall of Fame, Cleveland, Ohio, US
United States Holocaust Memorial Museum, Washington, D.C.
Charles Darwin Centre, Darwin, Australia
The glass pyramid was quite shocking when it was built in 1989. I.M.Pei was hired by the French President at that time, Francois Mitterand. The job was to create a new entrance to the Louvre, one of the most famous art museums in the world.
The site was the palace of the former royalty of France. Building an addition to a place with that kind of history was not going to be easy – how to do it so that it does not overshadow or conflict with that kind of "palatial grandeur"?  So what was Mr. Pei to do? He turned everything inside out and upside down. He put a glass pyramid in the courtyard reflecting the old structure and burying underground the mass of the new building.
The Pyramid was despised at first, but now it is embraced as a treasure of architectural significance by most. It is interesting to note that the Eiffel Tower, also located in Paris, was also scorned by people when it was built. And now you can see it is one of the primary symbols of the city, adored by most everyone.
I.M. Pei's son now runs the architecture firm. Find out about it here.