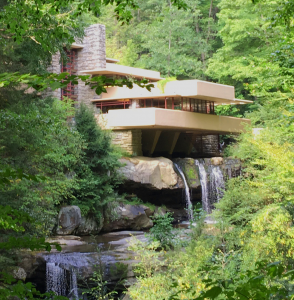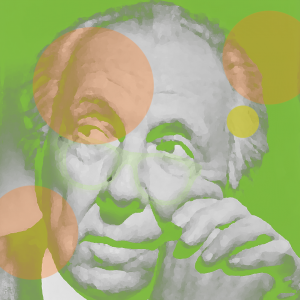 In Mill Run Pennsylvania, a house of stone, concrete, steel and glass straddles above a stunning waterfall. The house is named Fallingwater and it was designed by Frank Lloyd Wright from 1936- 1939. The Kaufmann family hired Frank Lloyd Wright to design this National Historic Landmark building as a weekend getaway home.
There is a whole palette of colors that were painted on the house that were specifically chosen by Wright. We wanted to mention a few because they were picked for their relationship to the natural world, just as the house integrates into the waterfall and forest.
One of them stands out as Frank's favorite. It is a red color that was used to paint the iron and steel of the home as those metals are made from fire. The name of this red is Cherokee Red. (perhaps not very politically correct…)
The green paint was reminiscent of the moss-covered tree trunks. A dark brown recalled the rhodendron leaves that fell to the ground in the fall.
The warm blue paint is like the rushing stream below the house.
This information about the paint is from the PPG Architectural Coatings company at ppgvoiceofcolor.com
Learn more about Fallingwater here.