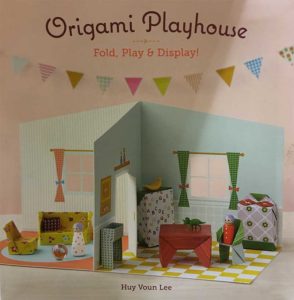 Artist/designer Huy Voun Lee is very clever. Origami Playhouse is more than a book, it is a fold out structure with instructions and supplies with which to make origami furniture.
It is cleverly constructed for unfolding to play with and then refolding to store. And it is challenging (but not Too Much) so that a child (perhaps with some adult help) can build out furniture and then arrange it in the structure.
The papers are high quality and the instructions are clear as a whistle. So let's get folding! Purchase the book, Origami Playhouse.
If you don't want to purchase this book, you can find other instructions for origami furniture here.