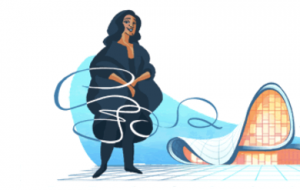 The Google Doodle today, May 31, 2017, recognizes the architect Zaha Hadid and her unique works of architecture. With swirls and curves,  the illustration reminds us of the many works that swished and flowed, like paper instead of heavy building materials. She brought so many new concepts of form to the construction of buildings. Sadly she passed away last year in 2016. Many of her buildings are yet to be completed, however, so stay tuned. One of the biggest projects that folks are awaiting is the 2022 FIFA World Cup Stadium in Doha, Qatar. Everyone likes a good stadium for soccer!
Hadid was born in Iraq in 1950 and then studied abroad. She designed her first building when she was 44 years old and then her career took off to design structures around the globe. She won the most prestigious international architecture awards, and was honored by the Queen of England.
This cultural building in Azerbaijan perfectly captures the flowing style that represents much of her work.
Here is an interesting article on Zaha Hadid in The Independent online news site.
By the way, Google posted Hadid today because it is the anniversary date of her receipt of the renowned Pritzger Prize, one of the most prestigious awards granted to architects.