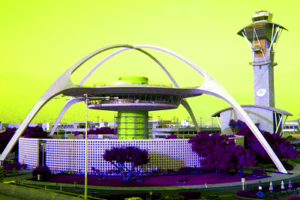 Paul R. Williams was a remarkable architect because he designed so many different types of buildings well, because he was a design innovator and a design thinker. Being a black man was (and continues to be) unusual in the field of architecture. Back in his day, it was almost unheard of. He was an excellent draftsman (someone who makes architectural drawings) and he could even draw upside down. This is an unusual and rather peculiar skill. He didn't learn to draw upside down like you might learn to hang from the monkey bars upside down, just for fun. He was forced to figure out a way to work as a black man with white clients. He knew that white clients would not have wanted a black man to stand up over them and show their work because it might be intimidating for the white man. Instead, Williams figured out that if he sat facing them and drew UPSIDE DOWN, then they could see what he was proposing without any feelings of discomfort for the client.
He literally learned how to draw UPSIDE DOWN because of racism.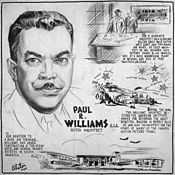 Architect Paul Revere Williams designed many structures at a time when very few people of color had the opportunity to practice architecture. In 1921, he was certified as an architect. He was the first African-American west of the Mississippi to get that certification.
He is famous for designing houses for rich and famous people in Hollywood, like Frank Sinatra, Lucille Ball, and Bert Lahr (who was the cowardly lion in the movie, "The Wizard of Oz.") Williams is also known for designing many public buildings like the very recognizable tower at the Los Angeles Airport that looks like a hollowed dome with a suspended structure in the center. Architect Williams also designed affordable housing across the country. Some of the houses allowed African Americans to own them – which was very uncommon.
There is a lot to read about Paul R. Williams, books and websites.
Here is a recent article about him in Fast Company.
Here is a link to a book about him Paul R Williams.
Hope you take a look and learn more about him. There are still a very small number of architects who are African American in the US. Let us hope that that changes.