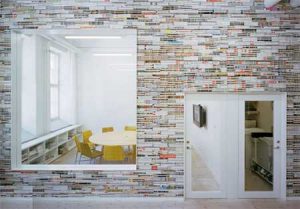 There is an office in Sweden with interior walls made of paper – piles and piles of paper. These "paperwalls" are stacks of magazines that are tightly bound and piled on top of each other.  You can see the edges of the magazines and the string that binds them, and it looks like a random pattern.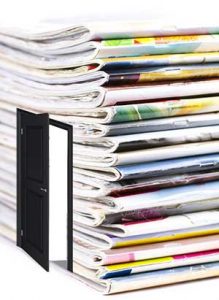 The magazine walls are only interior walls, because a heavy rain would make the walls a big pile of pulp.
The thick walls are great for insulation and also great for preventing sound from passing from one room to the next. Using magazines is also a great green solution. It is a great way to reuse old magazines.
The office is designed by the Swedish architecture firm, Elding Oscarson.