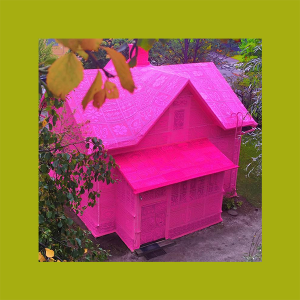 Artist Olek wanted to create a work (or two) that would recognize the difficulty of so many displaced people in the world without housing. So she designed two projects in Kerava Sweden and another in Avesta Sweden
Olek worked with a team of women to crochet large pink squares and then the team assembled the pieces over a full-size house. She liked the idea of women working on these houses.
They had donations of yarn, the house, and the work. She said that she had the idea to do this, "when the Syrian and Ukrainian refugees who helped me install my piece started telling me the candid stories of their recent experiences and horrors of their home countries, I decided to blow up my crocheted house to illustrate the current unfortunate situation worldwide where hundred of thousands of people are displaced." See the OlekNYC website with the full information.
These projects were completed in 2015.