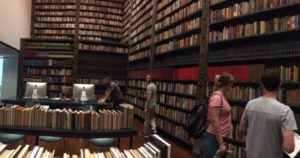 Whether or not you want to read any of the books in this room, the library room at the Stony Island Arts Bank will make you want to become a major book lover. The room is very tall and there are rows and rows of  books that are donated from the Johnson Publishing Company. Over 60,000 books in the collection are organized in this room where you can sit and study them (once you take a small training on how to use the books correctly.)
The Arts Bank is an arts center built in an old bank building that was scheduled for demolition…the next day! Avoiding the wrecking ball, the bank building was reborn as a fantastic space for arts experiences. There are art exhibitions, performances, parties, and research done in the structure that has been rebuilt by "The Rebuild Foundation." The Rebuild Foundation was created by artist Theaster Gates who has created a number of works based on and in the built environment.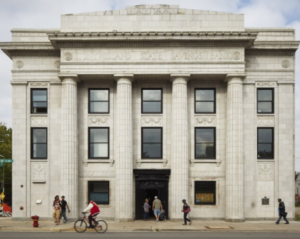 If you have a chance to visit Chicago, the old Stony Island Bank is a wonderful surprise and treasure to see. Like a jewel box that you unexpectedly find under the bed of your old Aunt Gertie. And you can stay and watch a concert or read a book in these wondrous spaces.