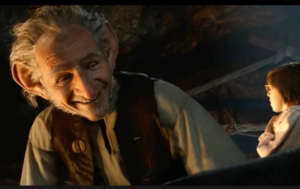 In the new film, "The BFG" there are some spectacular spaces and places to see. It is worth seeing because it is one of the sweetest movies ever, and you can also see it to see the interior architectural spaces. Filmed in 3D, the little girl, Sophie is taken from an orphanage and brought to the land of the giants, by the "BFG", the Big Friendly Giant. She is gently placed in a sweet little spot that has perfectly sized furniture other items for her, amidst the giant-sized stuff. Later in the movie, she is brought to the BFG's special office, which has jars along the walls, filled with dreams. It is magical and delightful space, with swirling lights and muted colors, and hand written labels on jars that define the dreams inside.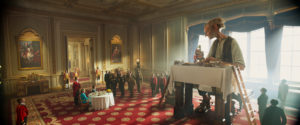 Later in the movie, Sophie and the BFG are trying to save the children of London from getting eaten by some mean and terrible giants, so they go to the Palace to meet the Queen of England. The Queen accepts the challenge of facing these giants with her military, but first, the BFG has a meal at the Palace. To accommodate him, the BFG is set up at a BIG table with BIG food. It is so funny to see him sitting in this finely finished room in the palace, close to the ceiling, with grandfather clocks as table legs, and ladders for waiters to serve him.
There are plenty of other great things about the movie, and we hope you will see it soon. Let us know what interiors were your favorites by emailing us at archKIDecture.
Thank you to Disney for this photo. Disney's THE BFG is the imaginative story of a young girl named Sophie (Ruby Barnhill) and the Big Friendly Giant (Oscar (TM) winner Mark Rylance) who introduces her to the wonders and perils of Giant Country. Penelope Wilton is the Queen. Directed by Steven Spielberg, the film is based on the beloved book by Roald Dahl.