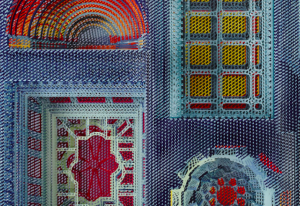 Los Angeles design firm, Freeland Buck, designed a fascinating installation for the Renwick Gallery at the Smithsonian Institution in Washington D.C. It will open in July 2017.
The architects took images of ceilings, ceilings with varied depth and features, and projected a selection of these different ceiling patterns on to a drop ceiling in the gallery in wild colors. The result is a rich surface that has great 3-dimensionality – where the gallery had a plain ceiling, you can now walk in and see a work of art. The title of the work is the Parallax Gap.
When we looked up the meaning of the word "Parallax" in Google, we found this definition:
the effect whereby the position or direction of an object appears to differ when viewed from different positions, e.g., through the viewfinder and the lens of a camera.
It seems that these ceiling projections do just that. The rooms seem to change completely because of the new ceiling images. The rooms seem bigger and taller and more decorative. Just as your perspective changes in a room with a real dome in a ceiling changes as you walk through a domed room, these projections alter as you move around as well.
The ceiling images are from famous room built in the 1800's.
The exhibition of Parallax Gap will be from July 2017 to February 2018 So there is time to get to the nation's capital and see it for yourself.
Here is the link to the firm, Freeland Buck.