There are all sorts of windows that an architect might select for a building.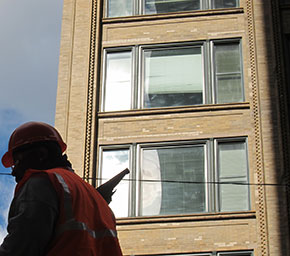 Chicago Window
A grouping of 3 windows, where there are two double hung windows on the sides of a picture window. These windows were used way back when in Chicago, in buildings like The Marquette Building, one of the earliest skyscrapers built. Chicago windows allow for great expanses of light, while also having the two side windows that open to allow fresh air to flow through. You get the best of both worlds with Chicago Windows – light and air.
Double-hung windows
They have two sections, called sashes. They slide up and down vertically.
Casement windows
These windows open outward with a crank. They have a hinge on the left or right.
Awning windows
With a hinge on the top or bottom, these windows open outward.
Picture windows
A large window that does not open.
Slider windows
These windows slide to open along a track.
Bay windows
These windows protrude out from the exterior wall and create more interior space. They are made of a group of windows.