SOM. What is that? In the heads of architects and architecture firms, SOM is SOMewhat of a big and familiar name. SOM stands for Skidmore, Owings and Merrill, one of the biggest and busiest architecture firms in the entire world. They have completed over 10,o00 projects in over 50 countries, (according to Wikipedia.)
The firm started in Chicago in the 1930's, by three men named Louis Skidmore, Nathaniel Owings and John O. Merrill. SOM has has SOMe really famous and great engineers work there as well. Fazlur Khan is one of the most well known.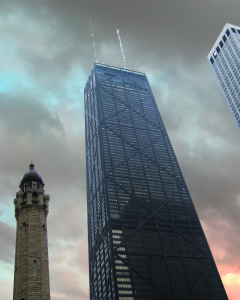 Our favorite local SOM-design in Chicago is definitely the John Hancock Building. With it's soaring 100 stories and slightly angled sides and massive "X"s that support the structure, it is elegant, unusual, and unique. It looks like it was recently built but in fact it was built back in 1969 – otherwise known by SOMe as the Stone Age.
(Fun fact is that my dad stood on the very, very top of the building, holding on to the antenna…he had to climb a ladder outside of the very top of the building to reach the mechanical units up there – he was a braver man than me!)
To learn more about this firm, you can visit their website at som.com OR….you can visit a neat pop-up exhibition at Mana Contemporary Chicago and see a bunch of great models and interesting items from SOM.  Mana, in partnership with the Chicago Architecture Biennial, has a display of 30 structural models at 1:500 scale (pretty small compared to the real things, or they would never fit in a gallery,) as well as drawings and sculptures which describe the work of this giant architecture firm. We can't wait to see it during the Chicago Architecture Biennial, which takes place from September 10, 2017–January 7, 2018.
Mana Contemporary Chicago is at 345 N. Morgan St., Chicago, IL 60607
Maybe we will see you there SOMetime soon.