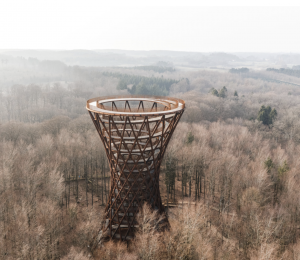 We love this Danish tower so much. And we hope to be able to visit it someday and climb, climb, climb up to the top and look out in the forest.
I mean, who wouldn't want to go there, to Haslev, Denmark, and visit a 900 meter boardwalk connected to a 45 meter tall observation tower. It is built in a forest which is protected, so no skyscrapers will be coming and blocking the view, and no loud trucks making deliveries below. Sounds pretty glorious!
On the Effekt website, the project designers, they tell us that "The geometry of the tower is shaped to enhance the visitor experience, shunning the typical cylindrical shape in favor of a curved profile with a slender waist and enlarged base and crown. This does not only increase the stability of the tower but also increase the observation deck area at the top of the tower, while allowing for better contact to the forest canopy." In other words, having a larger space at the top allows for more visitors for viewing and by having a larger space at the base allows for a larger and more stable base. So clever!
So the sort of hourglass shape is more stable than a regular cylinder – we didn't know that!
And if you can't walk or have difficulty, the architects/designers made it accessible so you can take a wheelchair up to the top of the tower for the incredible view.
Check it out more fully at https://www.effekt.dk/camp