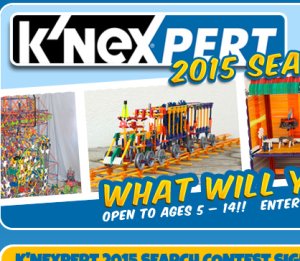 Do you know about K'Nex? It is a company that makes small plastic building toys that snap together and can  move and be large and flexible. 5 to 14 Year olds are able to enter.
From June 8 til August 28 this K'Nex company is holding a contest for K'Nex builders, called K'Nexperts.
They say that you don't have to buy the toys – and it is not only for building buildings. But it is an opportunity for getting a big prize and getting your good ideas shown to the world. Not bad for a 5 year old!
Contest now closed.