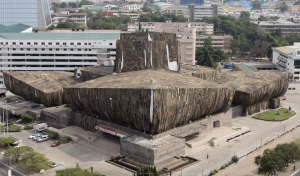 Ghanaian artist, Ibrahim Mahama covers up buildings in a most interesting way.
The artist takes sacks made of jute, also called hessian sacks, that are commonplace in his native country, Ghana.  Artist Mahama has collected a zillion of the sacks and then proceeded to sew them together and completely cover up buildings with the material.
Ibrahim Mahama used the sacks because they were available and also because they had meaning in the Ghanian culture. He purchased the sacks, used, torn, worn materials in the Ghanian markets and he used them in a new way to illustrate the use of materials in different cultures and also something about Ghanian culture specifically. Also by placing the work in galleries, in markets and in other places around the world, he makes people question ideas about stuff and material.
One of the huge buildings he covered was the Accra National Theatre. Covered like this, Mahama makes the building change from a smooth-surfaced structure to an object with a textured surface that makes you want to touch it.
Check out more about the artist and his works.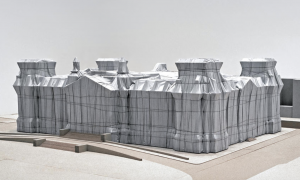 Another artist couple, Christo and Jeanne-Claude, also covered structures with fabric, but with solid colored, new cloth. Check out their website and see how they wrapped the Reichstag in Germany – it is bananas.
Mahama photo from https://publicdelivery.org/ibrahim-mahama-jute-sacks/