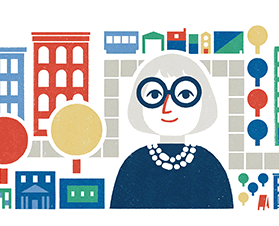 See Jane stop that building from being demolished!
What a great person – Jane Jacobs was an activist – who wrote a book in 1961 titled "[amazon_link id="067974195X" target="_blank" ]The Death and Life of Great American Cities[/amazon_link]". She took on urban planners who thought that cities were unhealthy and nasty places and that they should be demolished. Her reaction to those ideas was "NO WAY!!" While the planners wanted to do things like tear out neighborhoods to make way for expressways.
Jane Jacobs was a humanist – in other words, she prioritized humans and human interaction to isolation and technology.
We admire her work and her integrity. She would have been 100 years today, May 4. Happy Birthday Jane. We think you are ultra cool.
Read more about her here.