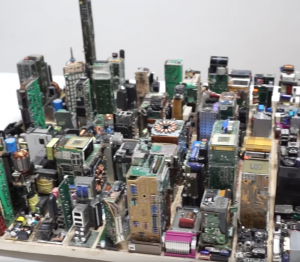 An artist, Zeyd Menk, made a scaled model of Manhattan (New York City) out of recycled computer parts and hot glue. The artist used Google Maps as a reference to see the location of buildings. Google also helped to determine the height and the shape of the buildings. The Empire State Building even lights up with LED bulbs!
This is what Zeyd used to make the detailed model: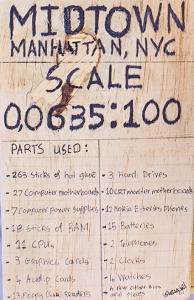 263 hot glue sticks
27 motherboards
10 CRT monitor motherboards
15 batteries
11 CPUs
2 clocks
4 watches
3 hard drives
3 graphics cards
4 audio cards
7 power supplies
13 floppy disk readers
and he says on notes on the model, "a few other bits and pieces."
If you have any old materials, try to build a cityscape. It is a really fun project.
See an interview with the artist here on Designboom.