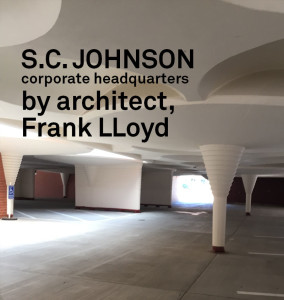 Frank Lloyd Wright designed the headquarters for the S.C Johnson company in Racine, Wisconsin.
He designed the buildings, the furniture, and even the sculptures. You can take a free tour of the place if you ever visit the Dairy state, and it is worth it.
The parking lot has these mushroom shaped columns that hold up the ceilings, and the large room where most of the administrative workers have their desks also have these unusually shaped pillars. The exterior of the building is made of brick, as well as much of the interior walls, and the bricks are colored in a kind of red-brown, known as "Cherokee Red", which is a signature favorite color for architect, Wright.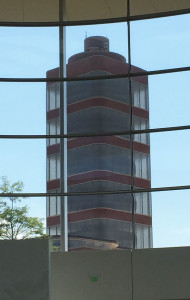 It is interesting however, that where most buildings have a couple of brick shapes, and these are usually rectangular, in this building, there are 200 unique brick shapes that were used to construct the building.
There are also innovative uses of materials like plastic tubes to allow light in through the ceiling, although there were some issues with leaking over time. The tall research tower was one of our favorite spots, but sadly it is not used anymore, only for tours.
Anyway, we recommend that you visit the buildings and read more about this fantastic place, designed by a man of vision and futuristic ideas, Frank Lloyd Wright.