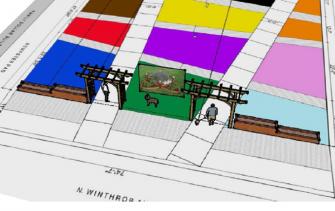 And here is a detail.


We received an email about a girl who volunteered her expertise in Google Sketchup to make these drawings of a community garden in Chicago. What a great way to get some experience, help your neighbors and learn a useful design skill. So listen up and sketchup! We will post other kids' drawings so send them in to archKIDecture.
Thanks Moriah, for these great illustrations. Oh yeah, did we tell you that Moriah is only 13 years old? Contact us if you want some drawings, she wants to do some more work!