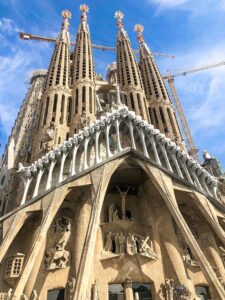 The Spanish city, Barcelona, is famous it's architecture. The city is the home of the work of Antonio Gaudi, the man who we always like to quote as saying. "I hope that in the future all buildings will be soft and furry." The man never met a corner he liked, so his buildings were filled with all sort of interesting curves and soft edges.
Anyway, back to Barcelona. There are some really great ideas coming to life in Barcelona right now. 21 downtown streets are going to be focused on pedestrian traffic, instead of car traffic. That means that people are the focus versus their vehicles. And that means that people can walk with one another and have conversation or stop to look at something interesting, without such a rush. There is the additional benefit of less traffic means less noise and air pollution and fewer serious accidents with cars. Bicycles are also invited with the pedestrians, so if you are in a bigger hurry, you can ride to your destination.
We had not really thought about how cars take up space in a city, but not just cars that are moving on the roads. Parked cars take up a lot of room and parking garages too. If there are fewer of them, then there can be more green spaces – parks. Who doesn't want more parks, after all?
Sometimes, businesses do not like the idea of car-free streets. The business owners feel that without cars nearby, people will shop less. But that is proven to be untrue. Read about it here. They cite data from Madrid and from Copenhagen, both European cities. In the US, we are not quite making these choices yet, but hopefully we will as we consider the environment more in the coming months and years.
Great job, Barcelona! We look forward to visiting some day soon!
For a great article on the Barcelona car-free neighborhoods, read this article from Fast Company.