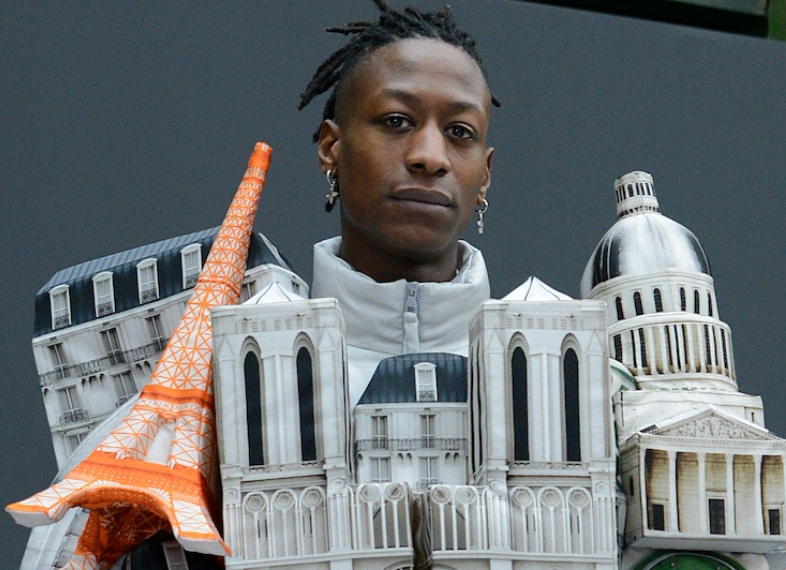 Virgil Abloh trained as an architect and now he is a designer for a famous fashion house, Louis Vuitton. As a fashion designer, his job is to design a whole series – also called a collection – of clothes for every season. This means that he and his team come up with themes and ideas for all sorts of clothing, pants, jackets, shirts, bags, socks and ties. These clothes have to have their own unique look and style and each season has to look different from other designers and even from previous years. It is a lot of work to create so many new ideas every season. For this season, Winter 2021, Virgil Abloh chose to integrate or combine the two areas of design that he knows well – architecture and men's clothing. We can call it architecture fashion – maybe we can start a new trend!
The outcome of this combination are these very unique and unusual puffer coats – with oh-so-many-buildings applied to them, in 3D. IN other words, the images of buildings are not flat in the design of the fabric, but rather applied to the jackets, sticking out every which way. The jackets look like someone made fabric models of a lot of famous buildings from around the world, including the Empire State Building, the Eiffel Tower, Notre Dame and the John Hancock in Chicago, to name just a few, and stuck them on some guy's coat! It is sort of bananas and definitely noticeable. If you want to get attention you might want to wear this coat. See if you can go on the subway without someone making a comment or two.
Read more about this architecture fashion at W, a fashion magazine.
Read another article here at Dezeen, where we found the photos too.