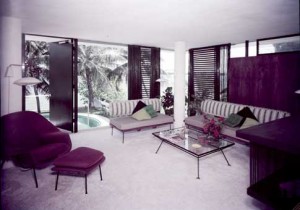 As we were looking around doing some research, we found this lovely house that was designed in the 1950's. It is a period that is referred to as Mid Century Modern architecture (You get it – in the middle of the 20th century – each century is 100 years so 50 is in the MIDdle of it.)
Anywho, this home is built in Florida, a place known for large bugs and hot weather. To accommodate these issues, the architect, Rufus Nims, built the house off of the ground, so those large bugs would not crawl in so easily. And, he designed a structure with a lot of windows and louvers, which allow fresh air to flow through the structure.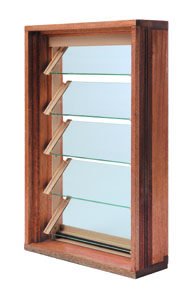 What is a louver? So glad you asked! A louver is a series of slats in a door or window that slope downwards to allow fresh air to flow in but to not allow rain in.
In the 1950's, houses did not have air conditioning yet, as so many houses have now. So architects had to design in other ways to create coolness in home spaces. By using louvers, it allowed air in and out. The windows allow plenty of natural light and would often be on the walls that do not have direct sunlight, so that it keeps the heat down. So clever.
The Nims photo is courtesy of Rada Collection, HistoryMiami and
Rudi Rada is the photographer.