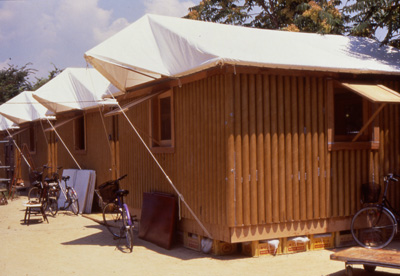 This Japanese architecture firm has designed some really interesting projects, including this project in Japan, which was built as temporary housing after a natural disaster. The architecture firm, called Shigeru Ban Architects is very successful at building projects out of paper and cardboard. Especially since paper and cardboard are easy to manufacture and recyclable too.
These architects call these "Paper Log Houses", as they are built from tubes of cardboard that are attached together with a kind of waterproof tape. And the roofs are made up of a waterproof fabric, usually used for tents.
It is interesting how designers solve the problems of temporary housing: sometimes with tents, sometimes with empty storage containers, and sometimes with kits of metal and fabric.
Shigeru Ban Architects is an architecture firm worth checking out.